Howard County Dart Association will be holding the 4th Annual Maryland State Dart League Championship on March 14th, 2020 at Triple Nines Bar and Billiards.
The Maryland Dart League Championship is a unique event that draws the best players from each dart league in the state of Maryland for a full day of high stakes competition. The top two teams receive a 100 percent payout of the entry fee, plus $500 added by Triple Nines Bar and Billiards. Last year's event was a huge success, and we are making it even bigger and better this year.
Each team will bring their 5 best male players, and 3 best female players, and face off in a "Round Robin" format consisting of 4 Singles matches, 3 Doubles matches, and 2 Mixed Triples matches. All matches will be played "Chicago Style", meaning 1 game of 501, 1 Game of Cricket, and 1 Cork Call game if needed.
Supplies Vendor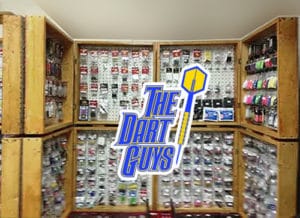 The Dart Guys will be selling darts and supplies at the event. Great selection of barrels, flight systems, and accessories!
Documents